Solar Refrigerators and Freezes
Introducing an entire line of Solar Refrigerators and Solar Freezers. All our units are DC powered and operate independent off the grid.
100% Off Grid Air Conditioners
Uses no electricity effectively reducing operating costs by up too 100% during the day and night and uses a combination of Solar Power and Battery Storage.
Solar Hybrid Air Conditioners
Keep the inside cool all day for next to nothing in energy costs, compatible with 50Hz and 60Hz power, use it anywhere in the world.
Solar Panels
Range of HCT Solar Panels and Polycrystalline Solar Panels, teh panels have a high module conversion efficiency that has low degradation and excellent performance.
Solar Ceiling Fans and Skylights
As long as the sunlight is available, where an ordinary ceiling fan is needed, then the new solar ceiling fan with LED light can be a better solution!
Gel Batteries
6FM battery series are general-purpose gel battery up to 8 years in float service or more than 260 cycles at 100% discharge in cycle service.
Solar Hot Water Systems
Providing an innovative way of saving on hot water costs while providing a cost effective solar hot water solution all year round for the end customer.
Introducing a range of Innovative Solar Energy Saving Products that are cost effective, clean and green.
Who We
Are
A new technological breakthrough was introduced by our Solar Company, SolAir World International. The ability to use Solar Energy to greatly improve energy efficiency. SolAir World International introduced revolutionary fan design increases airflow and reduces noise.
Delivering air conditioning and HVAC products. SolAir World International is the preferred option for major distributors, builders and developers around the world as pressure increases to "Go Green".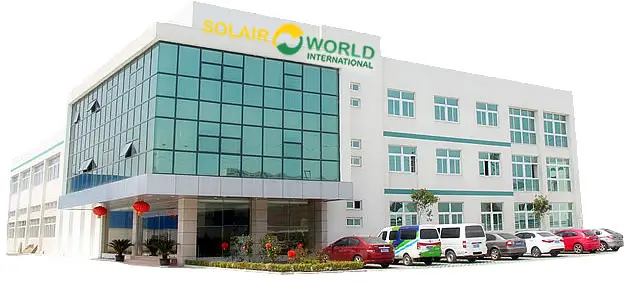 Become a solar distributor now?
We assist with training, brochures, sales, quotation, support & design.