solar air conditioners, solar hot water & 100% off grid
Solar air conditioners, solar hot water & 100% Off Grid, become one of the solar distributors for Solair World International today.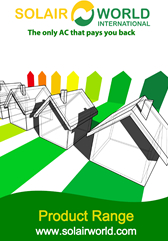 SolAir World International has a vision to protect the environment with lower energy consumption
while putting more money back in your pocket.
SolAir World International is proud to introduce solar air conditioning that provides an innovative energy saving solar air conditioning, utilising thermal energy to provide cost effective clean green thermal solar air conditioning comfort in summer and Heat Pump technology for the cooler months.
Hot water and air conditioning are the most significant costs to any households today, with the costs of electricity sky rocketing, the impact of using these technologies is a major concern to most people.
Click here to learn more about Solair World International
Learn more about our solar distributors product range
Check out the new generation waterless thermal panels are used in our solar distributors product range below.
The benefits of using our solar air conditioners
SolAir World International's solar products are suitable for either commercial or residential purposes.
Our fully reversed cycle solar air conditioners / solar hot water heat pumps, are the most efficient systems in the market place today. They out perform all the traditional inverter type systems on performance and running costs saving you up to 50% in power consumption. Gone are the days of just installing an inverter air conditioner, thinking that it is the most efficient system around. Hybrid solar air conditioners & solar hot water heat pumps are the next generation in the development of energy efficiency.
Our solar air conditioners use the world's most natural resource available to us, the sun - to help run our units. Our solar powered air conditioners are manufactured to the highest standard and have an internationally recognised quality assurance system in place.
We also provide a range of solar hot water products that are one of the most energy efficient solar hot water systems in the world. We can boast savings of up to 80% in electricity running costs, in return saving you money.
SolAir World International proudly introduces 100% Off Grid 48V DC Inverter's to our range. This range of wall split air conditioner / heat pumps are the first in the world to be a complete 100% Off Grid unit. They are 48 volt and use no electricity at all. The 100% Off Grid units are run from battery storage and are the most recent innovation in standalone power saving, providing the ultimate energy savings with cost effective clean green solar air conditioning comfort.
Click here to learn more about solar air conditioners
Looking for new solar distributors around the world
A new technological breakthrough by SolAir World International uses thermal solar energy to greatly improve efficiency and our revolutionary fan design increases airflow and reduces noise.
We are fully compliant with Australia, New Zealand, United States and International Standards.
SolAir World International is an established international company delivering innovative solar products and services throughout Asia, Australia, India, the Middle East and beyond. SolAir World International's solar air conditioning is positioned to become the preferred option for major builders and developers as pressure increases to go "green".
If you are interested in becoming one of our solar distributors and willing to join our great professional team of solar distributors then click the link below, fill out the solar distributors contact form and we will setup an appointment with you to help you get started on becoming one of our many solar distributors. We look forward to having you in the SolAir World family.
Click here to contact SolAir World International
How solar hybrid technology works
The next generation solar air conditioners and solar hot water systems take the improvements made by inverter technology to the next level. By capturing thermal (ambient) energy, the amount of work the condenser does is reduced under full load and significantly extends the time the compressor is cycled off. Want to learn more about how this solar technology works then click the link below to get started.

Click to read about how solar technology works