Solar Thermal Powered Air Conditioners to you,
 delivered by SolAir World International
Market Leaders in Solar Thermal Energy - SolAir World has a vision to protecting the environment with lower energy consumption putting more money back in your pocket.  SolAir World is proud to introduce solar thermal air conditioning that provides an innovative energy saving air conditioner, utilising thermal energy to provide cost effective clean green thermal air conditioning comfort.
 REDUCE YOUR CARBON FOOTPRINT WHILE SAVING YOU ENERGY
LOW COST SOLAR  THERMAL AIR CONDITIONING IS HERE NOW!
SolAir World's product range is suitable for either commercial or residential situations. SolAir Worlds solar thermal air conditioning system saves you up to approximately 30 – 70%* of your energy consumption, compared to the inverter air conditioning system. SolAir World's solar thermal air conditioning system is manufactured to a very high standard and has an internationally recognised quality assurance system.
With electricity costs rising, there is no better time than now to invest in thermal power sources and getting your
Free Energy from the Sun!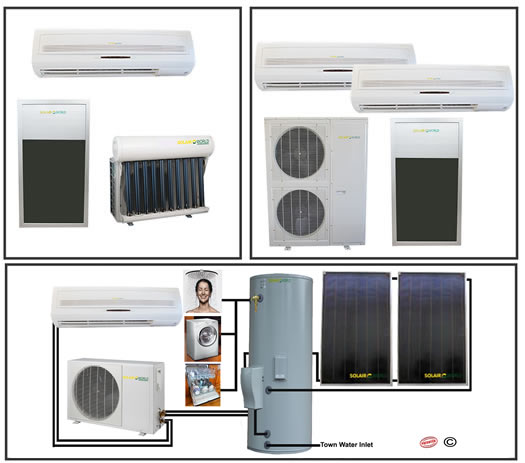 Why You Should Buy Solar Thermal Air Conditioner
Saving you up to 30 - 70%* in energy usage ... A new technological breakthrough, using thermal energy, when sized and installed correctly makes SolAir World air conditioning more energy efficient at an affordable price.
Similar purchase & installations prices ... you'll be surprised to learn that cost to purchase our solar thermal air conditioner's are only a little more than branded electricity-only air conditioning systems.
Quieter than traditional systems as the solar thermal air conditioner's compressor is running much less often than electricity-only systems.
Professional Installation across Australia by SolAir World accredited air conditioner installers provides you a 5 year warranty which includes 5 years on parts and 3 years on labour on your air conditioner.
How It Works
The Next Generation Solar Thermal Hybrid Air Conditioners take the improvements made by inverter technology to the next level. By capturing thermal (ambient) energy, the amount of work the condenser does is reduced under full load and significantly extends the time the compressor is cycled off.
The solar collector absorbs thermal solar energy by using a thermal collector with copper heat conducting inner coils. This then uses the stored energy in the solar collector to continue the refrigeration cycle while the compressor is off, utilising a larger stored amount of refrigerant liquid in the condenser.
The collector, compressor and the condenser have been designed to work in tandem to allow a smaller compressor to be used. The smaller compressor consumes less electricity and combined with the solar collector, SolAir World's air conditioners optimise energy savings and reduce running costs.
Simply put, the hotter it gets, the more energy is collected in the thermal hybrid collector,
the more efficient the system becomes.
*Up to 70% on power usage can be achieved during the low frequency (off cycle) If installed and sized correctly and once room temperature  has been reached based (Duel head units) Test results are based on third party testing and actual installations.